Life as a teacher is strange during the lockdown. Each morning we are waking up, setting our respective classes work (usually projects) and constantly monitoring the replies and responses sent back over the various learning platforms online. At the moment, however, it is the Easter holidays. It doesn't really feel that way as I've found myself in a new routine each day. Waking up in the morning and making myself a quick coffee, I'll retreat to the study and begin to write about all things football history. Gareth and myself are, at this moment in time, nearing the end of our second book and our research has taken us to new levels of intrigue and inspiration as we delve deeper and deeper into newspaper archives, minute books and even parliamentary debates. Yesterday, on the other hand, I had a bit of writer's block. That was until we were sent a question from a follower on Twitter.
Simply put Michelle Brennan asked,
'found an old photo of my great grandfather ! Any ideas of club and year ?? I know he played for Millwall and Luton in early 1910s, but it's neither of those clubs'
At
The Football History Boys
, we love a challenge. Accompanying the tweet was a black and white image of a team playing in what we assume to be white with a coloured trim. In the centre is two distinct trophies with the squad, coaches, investors, and owners looking mightily pleased with their new additions. With no date it would be difficult to find who the team was and what they might have won but judging by the haircuts, the fashion, and the incredible moustaches, we assumed it to be before 1910.
Knowing that the player in question played for Luton and indeed Milwall in the early 1910s, we first of all set out to check the two sides and the history of their respective kits. Checking into historicalkits.com we found that neither matched the jersey in the photograph and could indeed be ruled out. The kit does have a distinct round trim just below the collar and with this in mind we set out to check into a few more clubs and take a closer look at their uniforms. Luton and Millwall are two clubs based in and around London and so naturally we thought the first place to start would be in the capital city. Charlton, Arsenal, Spurs and Chelsea all bore little fruit before both West Ham and Fulham seemed to offer some clue as to the team in the picture. West Ham boasted a kit with a collar reminiscent of the one in the photograph and Fulham's colours were the same. However, neither could be proven to be the exact same jersey as was clearly shown in the photograph.
I moved onto the trophies in the picture. Two distinctly ornate cups sat proudly upon a brand new stand. Surely, I thought, discovering the name of the cup would be an easy task. Nope. First check was the FA Cup, but the pre-War FA Cup had a small man stood on top of its point. Then I began comparing the trophy in the image to a whole host of others - each time coming to a frustrating conlcusion. Some were close: the FA Amateur Cup; the Kent County Football League and the London FA Cup - but not quite what I needed.
I decided to ask Michelle for the name of the player. Perhaps, in hindsight, this is what I should have done straight away. The reply was "Tommy Quinn". Brilliant. Opening the
British Newspaper Archive
, the first search I put in was simply his name. Not the smartest move as around 40,000 different results appeared before me. Including the word 'football' into the search did little to help either as this inclusion jumped the results up to over 300,000. Wow. It came to the point where I knew this was going to take a lot longer than first expected and so working with what information was already present it seemed that 'Luton Town' would be key.
Tommy at Luton
A simple Google search showed me the Luton Town FC Wikipedia page. A brief mention of Tommy is included in its history section. It explains that the club ran into financial difficulties during the early 1910s and had to sell Quinn to Millwall. This checked out with what Michelle had previously said. Opening the newspaper archive once more I decided to use Luton as my reference point and build Tommy's career from the inside out. His name did indeed appear when searched under 'Luton Football Quinn' and a date set to 1910. The
Southend Standard
had mentioned Quinn scoring an offside goal in a 4-1 victory over Southend. The paper heralded Quinn's 'splendid play' in order to set up Luton's first. [1]
I could be sure then that Tommy was indeed on Luton's books in the 1909/10 season and a quick check into the next year once more showed the forward playing for the
Hatters
. Two seasons down, this was going well. It came to my attention, however, that when the searched edged into 1912, Quinn's name was rarely found in my previous search and indeed his name was absent from Luton's teamsheets. Furthermore, an increase in articles discussing the club's economic downturn highlighted the words from the earlier Wikipedia entry. Tommy must have been sold to Millwall.
He was. The
Luton Reporter
became my greatest source of knowledge on Tommy. It made frequent reference to the sale of Quinn and his teammate Smith to the club from south east London. The decision to leave Luton came in March 1911 - surprising given today's transfer windows as Quinn had indeed left before the end of the season. Vitally, it also stated where the players had played before moving to Luton. Smith had played for a number of leading clubs in the Football League and the Southern League but Quinn, it notes, 'had practically no experience of first class football'. The article goes on to state that he must therefore be a 'luton made footballer'.[2] Spending two seasons at Millwall and often scoring a number of goals it came as a total surprise to see the Lions fail to renew Tommy's contract in 1913. Suddenly, Quinn was without a club.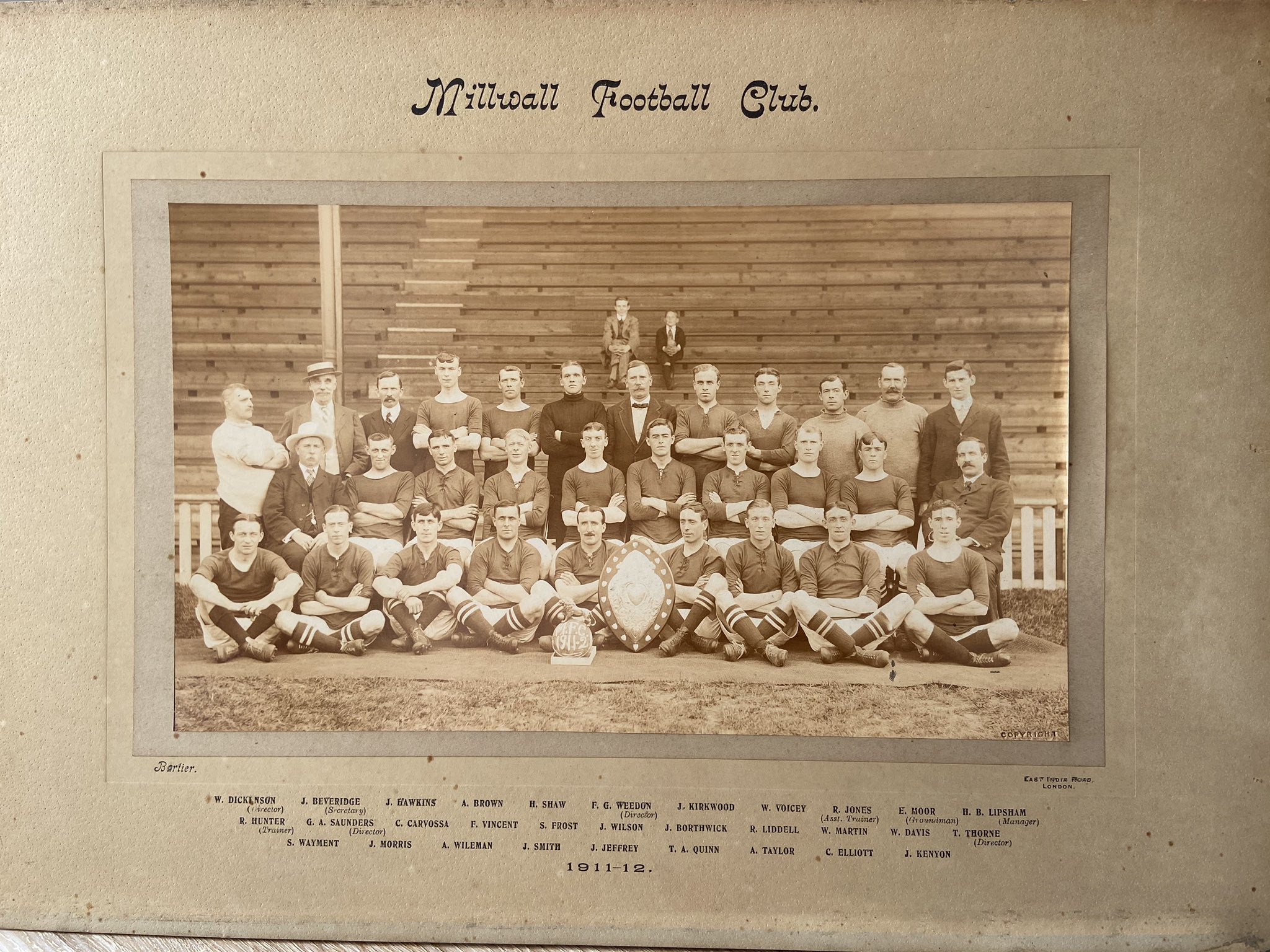 Tommy at Millwall
With this in mind, it came to the point where I wasn't any further along with my original aim - to find the club in the picture. As aforementioned, it appeared to be earlier than 1910 and so the next task was to find where Quinn had moved to Luton from. The
Luton Reporter
was once more an invaluable resource as at the start of the 1909/10 season it made note a trial match in which all the new signings, or potential signings, played in order to earn a contract. Quinn is mentioned frequently as he is involved in most of his XIs best plays. Scoring one and coming close on a number of occasions, the article notes that his shooting is not 'up to the mark'. This is perhaps overly critical when earlier in the piece it does indeed reference the side he joined Luton from. "Quinn, the ex-Gravesend and Fulham man".
In 1909 Gravesend were by no means a top side. They had been plying their trade in the Kent League. A local division, it offered a decent level of football, higher than your average Sunday league but still one below the Southern League and its Second Division. They did, however, have an opportunity to enter the FA Cup qualifying rounds and the articles which discuss these offer further intrigue into the journey Tommy Quinn took in order to reach the dizzying heights of the Southern League. Gravesend had a decent run in 1908/09 as they reached the fourth qualifying round, only to be beaten by Kent rivals Maidstone in a replay.
It appeared that Quinn was in fact a bit of a south east superstar. As well as appearing for Gravesend, he had played for Bromley the season before in the Spartan League- scoring a remarkable 49 goals in total. Articles in the local press and in particular the
Gravesend Reporter
and the
North Kent and Sussex Advertiser
reference that he was allowed to play for Bromley and indeed Gravesend later because Fulham had granted him permission to do so. Our guess was that although 'owned' by Fulham, he had in fact been lent or loaned to the lower league clubs. His debut for Gravesend was reported as a potent attraction wherein he produced a 'brilliant performance' and scored twice.[4]
In one of his first games for Bromley, he would again appear on the scoresheet, this time against Northfleet. However, the game would be remembered for an injury sustained by a Northfleet player after 'Quinn's knee came into violent collision with Crane's head and the latter fell to the ground senseless'.[5] Although understood to be an accident, it left Bromley's opposition a man short for rest of the game. A club playing in white with a black trim - Bromley seemed my best bet for the club in the photograph. More digging helped me to find that the South London side were indeed in a cup final that season - the Kent Amateur Cup. Orginally meant to be played against Rochester on Easter Monday, the game would be rearranged through fear of a clash with the Kent Senior Cup the same day. Bromley would win the tie 4-2. A week earlier, Quinn had scored a vital equaliser and then put his side ahead as they secured the Spartan League with two games to spare. In front of a 'capital attendance' it further highlighted the level of support for lower league sides.[6]
Still needing definitive proof, we sent out a tweet to the clubs Tommy played for asking,
And Ebbsfleet responded,
SUCCESS!!!
My exhausting yet intriguing journey through Tommy Quinn's career had seemingly been successful. For two days, Tommy Quinn became the main man again. 112 years after his triumphant victories in the Spartan League and Kent Amateur Cup his career had been brought to life once more. After finding out so much I couldn't stop searching for more. Trawling through what seemed like endless newspaper articles it eventually became clear that he signed for Dartford in 1914 - just after the outbreak of the First World War. The Kent League had been suspended but the FA Cup remained. Playing at his best until Dartford's elimination in the later qualifying rounds it seems a shame that war probably ended his career prematurely.
Now that I've started - I want to find out even more! Thank you, Tommy, for an amazing career and thank you for keeping me occupied during the lockdown!
Just after publishing a further tweet came in to prove our final conlcusions,
Career: What we know
-1907: Possibly Fulham?
1907/08: Bromley FC (Spartan League and Kent Amateur Cup Winner)
1908/09: Gravesend United FC
1909/10: Luton Town FC
1910/11: Luton Town FC
1911/12: Millwall FC (London Challenge Cup Runner Up)
1912/13: Millwall FC
1913/14: Cray Wanderers FC
1914/15: Dartford FC
FIRST WORLD WAR
[1]
Southend Standard
, 15 September 1910
[2]
Luton Reporter
, 16 March 1911
[3]
Luton Reporter
, 19 August 1909
[4]
Gravesend Reporter,
10 October 1908
[5]
Gravesend Reporter
, 28 September 1907
[6]
The Sportsman
, 15 April 1908
Follow us on Twitter @TFHBs
©The Football History Boys, 2020