A History of Scotland at the World Cup | @AlexHTheMAX
Part of a series of Scottish football history articles written for us by radio presenter
Alex Horsburgh
, today we look at Scotland's national team and their World Cup history:
Scotland first appeared in a World Cup finals in 1954 in Switzerland but they were actually invited to the Brazil World Cup in 1950. There was no qualifying tournament back then but somehow the Scots (or rather the SFA) contrived to disqualify themselves from a trip to South America as they announced they would only travel if they were British Champions.
The week long Home Internationals, played at the end of the domestic league season, was without doubt THE tournament for England, Scotland, N. Ireland and Wales throughout the 1950's and maybe even trumped the World Cup in importance in that decade.
England were happy to accept the Brazilian invitation, but the Scots felt their place had to be earned, thus putting themselves under pressure to win the traditional finale to the four-team UK contest against the Three Lions. Following indifferent Scottish performances against N. Ireland and Wales, only a win v the 'Auld Enemy' at Hampden Park, Glasgow in May 1950 would give them the Sir Stanley Rous trophy.
Scotland lost in Glasgow against England and compounded their failure by turning down a SECOND invitation from the Brazilian FA some ten days after their self imposed exile from the Jules Rimet Trophy.
1954
1954 saw tartan pride replaced by a better sense of the changing world football landscape and 13 plucky Scotland Internationals (including just one goalie) pitched up in Switzerland for the finals. However, the, at times, comic cuts nature of Team Scotland at international level was starting to formulate as SFA officials (and wives) outnumbered the actual 'squad' (if you can call 13 'a squad'), while heavy cotton shirts and woolen socks were packed naively as the SFA thought the Swiss, famed for their winter sports, might not have discovered the season called summer.
They had, and Scotland were hammered 7-0 by 1950 World Champions Uruguay in their opening group match in a game that was as much about kit as grit.
1954 marked Scotland's World Cup debut
The Uruguay side wore light boots and shirts, designed for humid conditions, while they were also still on a high from their unexpected success four years earlier, when they so scarred their local rivals that the Brazilians would ditch their all white national kit for what we know today. A Scotland international in Switzerland (and future Scotland and Man Utd manager) Tommy Docherty, quipped that the Scots "were knackered by the end of the anthems" as they stood in the Berne sunshine with heavy boots and the aforementioned heavy cotton shirts and woolen socks, designed more for a November night at Hampden. Scottish shorts were over the knee while the South Americans had, shall we say, more room to manouvere!

1958
Scotland's first World Cup finals in 1954 were over before they had really begun, and although 1958 in Sweden was slightly more memorable, if only for the lack of being hammered 7-0, the First Round of the finals was where Scotland peaked again. Manager Dawson Walker resigned after the second match, a 3-2 defeat by Paraguay which followed a 1-1 draw with Yugoslavia. Scotland limped home after losing their third match 2-1 to France, but with the man who should have led them to the finals still recovering from the Munich Air disaster (Matt Busby), there were more important things for the Scottish football public to concentrate on in 1958 rather than World Cup mediocrity from their national team. And of course - there was always 1962.

Barren years
Scotland would not qualify again until 1974 with a hat-trick of near misses showing them at their most infuriating before the days of Jordan, Dalglish, Holton etc. They ended up losing a place in Chile '62 to eventual finalists Czeckoslovakia in a play off while 1966 England was a particularly sore one for Scots as, despite beating Italy in the qualifying tournament, they would fail to make it over the Italians to what is regarded as the finals that heralded the arrival of the World Cup as a global spectacle. Denis Law ended up playing golf on the day England beat W. Germany 4-2 in the Wembley final. Typically, Scotland decided to become the first team to beat Bobby Moore's Worldbeaters (in 1967 winning 3-2 at Wembley).
The finals in Mexico 1970 was a near miss as West Germany beat Scotland 3-2 in the decisive qualifying match after Scotland had taken the lead abroad. Scotland again didn't help themselves when full back Tommy Gemmell of Celtic got himself sent off for retaliation after a foul by Helmut Haller, Gemmell chasing the German for 20 yards, before connecting with Haller's backside via a foot that would score in two European Cup finals for big Tam's Glasgow club side.

1974
Sir Alf Ramsey, no less, referred to the 1973 Scotland team that lost 1-0 to England at Wembley in the annual Home Internationals as "the best Scotland team" any of his England teams had played against and even went as far as to say the Scots might join England in the 1974 World Cup Finals in the then West Germany!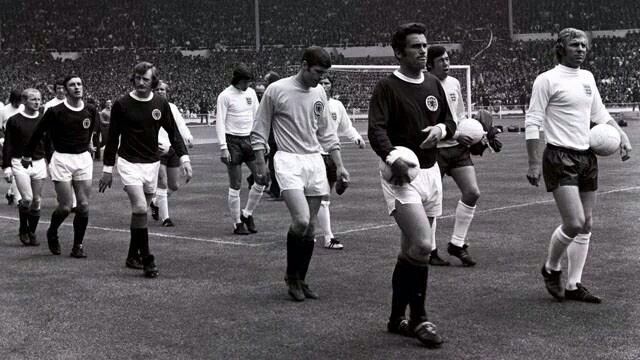 Scotland went one better and qualified while England stayed at home thanks to their failure to beat Poland in their qualifying group. Scotland pipped old foes Czeckoslovakia and left Denmark in their wake on their route to the finals and then in an 'oh so typical' Scottish way still failed to get past the First Round in the GDR despite remaining undefeated against Zaire, Brazil (0-0) and Yugoslavia (1-1). Brazil beat Zaire 3-0 and Scotland beat the former Belgian Congo 2-0 and that was to be the difference between second and third place. Yugoslavia, by the way, beat the Africans 9-0. Willie Ormond was the Scotland manager for the big trip to the 1974 finals.
The finals of 1978 in Argentina with the likeable Ally MacLeod in charge of Scotland needs no introduction, and no rewriting here, the failure to beat Peru and Iran followed by the surrealism and artistry of Archie Gemmill's goal in the 3-2 win over eventual beaten finalists Holland is etched on the minds of a generation of Scots.
We move on.

1982
1982 saw a more sober approach to the now expected qualification for the World Cup with Jock Stein in charge for Spain '82. There would be no repeat of Peru or Iran as New Zealand were dispatched 5-2 in the opening game but a 4-1 thumping by Brazil left Scotland having to win their final First Round group game against the USSR.
Final score 2-2 and once again Scotland home before the postcards.

1986
Qualifying for Mexico 1986 saw the tragic death of Jock Stein, clearly ill before the tie, at the end of the final Qualifier in Wales where a point was required (1-1). Alex Ferguson took charge for a lack lustre campaign which saw scrappy defeats by Denmark (1-0) and West Germany (2-1). The final game at Mexico 1986 against 10 men from the first minute (a thuggish foul on Gordon Strachan), Uruguay (0-0) is without doubt one of the most turgid Scottish international matches ever witnessed.
Jock Stein, who sadly passed away in Wales and his replacement, Alex Ferguson
1990
By Italia 1990 being at the party was more important to the Tartan Army than actual results (we knew the team would always go off script by the time Andy Roxburgh was in charge and history had indeed proved that).
For the record, a 2-1 win over Sweden was the meat in the sandwich of 1-0 defeats against Costa Rica and Brazil respectively. Scotland would be forced to seek consolation in England's semi final defeat on penalties against the Germans, but for us it was a World Cup that should have produced more under the unfashionable Roxburgh, the man who, as a young coach, had warned Ally MacLeod about Peru.

1998
France 1998 was the Scots last appearance at a World Cup finals. This completed a mind-blowing six out of seven qualifications over 25 years which will never be repeated in my view.
Craig Brown took charge of qualification and the games in the finals v Brazil, Norway and Morocco. A Tom Boyd own goal gave the World Cup holders a lucky 2-1 win in Paris, while the 1-1 draw v Norway contains the Scots last goal at a finals (Craig Burley). As always, Scottish gusto and expectation was replaced with stark reality, as Morocco thumped us 3-0 in our (to date) last match at a World Cup finals.
Even as a proud Scot, I personally can't see qualification for a World Cup for my nation for quite some time. Although our contrary football nature, forged in aforementioned games against Uruguay, Brazil, Peru and a collection of underdogs in finals and qualifying alike, guarantees the combination of fair complexions, red hair, kilts and retro cotton dark blue shirts in the baking heat of Qatar. Infact, it's now almost a kind of World Cup law that Scotland should be there against the odds.
See you in 2022 for the 2-0 win over the Germans followed by defeats by Panama and the Faroe Islands!
Will the Taran Army journey to Qatar in 2022?

Scotland World Cup Landmarks:
Joe Jordan scored in three successive finals in 1974, 1978, 1982.
Scotland have still not equalled or bettered their 8-0 win over Cyprus at Hampden in 1969 (World Cup 1970 qualifying) .
Scotland's 'away' Qualifier for the finals in Argentina v Wales in 1977 was switched to Anfield in Liverpool to accommodate the demand for tickets (Scotland won 2-0).
Scotland beat then European Champions Czeckoslovakia 3-1 on their way to the 1978 finals.
Scotland qualified for two of the three World Cup finals played in the 1970's. Old rivals England didn't qualify for any via the qualifying tournament in that decade. Their 1970 appearance was automatic as holders and they failed to qualify for W. Germany and Argentina.
Scotland World Cup Lowmarks:
Willie Johnston was sent home from the Argentina World Cup after a flu shot recommended by a Doctor. He took it for a summer cold and it was counted as a performance enhancing drug following a test after the Peru match. A controversial decision at the time by FIFA, Johnston never forgave the SFA for not arguing his case.
Scotland needed a three goal victory over Holland in their final group game to qualify for the second stage of the Argentina finals. Goals from Archie Gemmill (2, 1 a pen) and Kenny Dalglish had them 3-1 up at one stage but Jonny Rep's strike for the Dutch ended the Scots mission impossible.
Scotland managed to draw a World Cup Qualifier for France 1998, despite Estonia failing to show up for their 1997 home tie. The match was awarded to Scotland but then Fifa reversed the decision and allowed a replay in neutral Monaco which ended 0-0.
Scotland's Women also suffered World Cup heartache in the finals of 2019. They led 3-0 in the First Round group stage against Argentina in a must win match only to be pulled back to a final score of 3-3. The dramatic nature of Scotland's International football team is also a female trait it would seem. Argentina's third goal was a thrice taken penalty with the Scottish goalkeeper accused of moving before the spot kick twice before Argentina finally scored.
Replays show her second penalty save was entirely legal.
This piece was kindly written and given to
@TFHBs
by Alex Horsburgh - you can follow him on Twitter:
@AlexHTheMAX
©The Football History Boys, 2020