Sometimes lost in this crazy sport of football are the players who showed very brightly, but weren't world class players. German midfielder Michael Ballack played at the top level for most of his career, but there hasn't been much run deep on him. Why would such a great player not have so much written about him in this age of longform writing? He played for so many good to great clubs.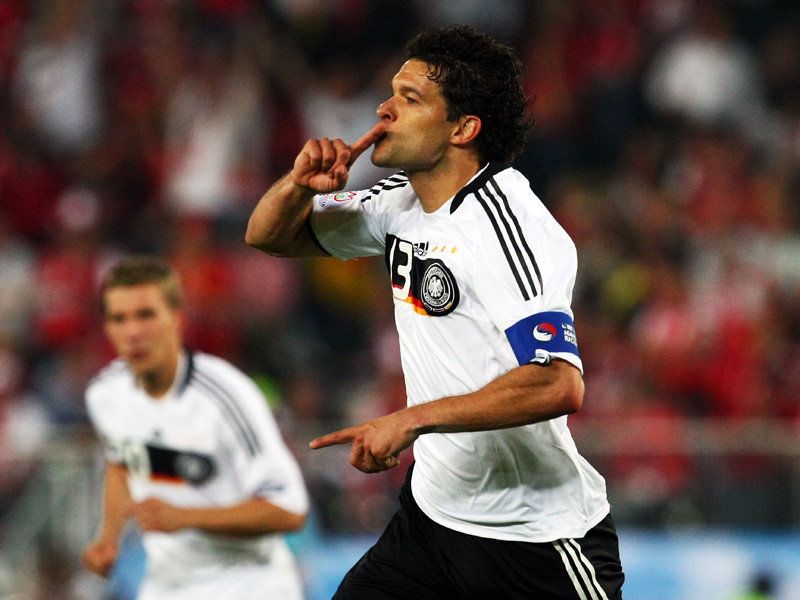 A legend of the modern game
Maybe it was because Michael was hard to figure out in many ways. We tend to define players by characteristics we can put into flowery prose. David Beckham while a very good player could be one of the more overhyped players to come out of this generation of players. Sure we had Zinedine Zidane who was a little bit of everything put into one of the most well rounded players of all time. Roy Keane, was one of the last great hardmen allowed in the sport.
That being said, he competed against a small number of midfield greats, very few of which were able to play all the roles that Michael was asked to do. Ballack made it all look too easy sometimes on the pitch. No one player during his time could have been loved and praised yet be received with such indifference due to his lack of flash.
He was not brought up at a big club, or spoon fed top training like the rest of them. Michael was one of those players who did it all himself. As a youth player he played for a rather mediocre Chemnitzer FC in 1995. Even though he should promise, he could stop the club from going down from 2. Bundesliga in his debut year.
It was obvious that he was too good for the level he was on, but he still stood out. Eventually he made a step up to Kaiserslautern, a side that was making its way up to the elite of German football. In the 1997-98 season he mostly sat on the bench. However in the tail end of March, he earned his place in a match against future employers Bayer Leverkusen. His pace and work rate under pressure helped them win the title, the first newly promoted side to ever achieve such a feat.
Ballack spent one more season at Kaiserslautern establishing himself as one of the bright spots in German football. He led Kaiserslautern into the 1998/99 Champions League quarter finals before moving onto Bayer Leverkusen. He immediately went into a side that was on its way up. In the final match of the 1999/2000 season Leverkusen was on their way to winning the Bundesliga title. All they needed was a draw against Unterhaching, a small club in the top league. However, Ballack had an own goal in the match handing the title to Bayern Munich. Earlier in the round Bayern beat Werder Bremen to do their part to win the league.
Captain for Bayern
The next season Leverkusen were in the exact same position pushing towards title with the final three games, being five points ahead in the league. They were also on a historic run for their history by having the chance for a treble. They were in the Champions League and the DFB Pokal Finals. The pressure quickly got to the club, losing out on the title at the death of the season for the second straight year. Then they lost out in the two finals earning themselves the nickname Neverkusen.
Three straight years of failure could have ended the development of a player, but Ballack was stronger than that. Throughout this period, he was awarded UEFA Player of the Year, German Player of the Year, and name as part of the UEFA Team of The Year and FIFA XI for 2002. Such individual acclaim lead to another transfer on the cards, this time to the biggest club in the land - Bayern Munich. While there he won the League and Cup double in 2003, 2005, and 2008, while getting German Player of the Year in two of those years.
Eventually, he moved once more. This time to a shiny new project in England. Chelsea was in the early stages of their grand ascension to the top of the footballing world.
They needed the best German midfielder there was, and in his four-year stint at Stamford Bridge, Ballack won two FA Cups, the Premier League, and a second place medal for the Champions League.
Continuing his good form at Chelsea
He did have some problems while in London as Chelsea finished second in 2007 and 2008. Furthermore he could only captain Germany to a runners-up place in the 2008 Euro Finals against Luis Aragones' Spain. So those demons or, for lack of a better description, curse followed Ballack everywhere. The great Franz Beckenbauer thought very highly of the midfielder, heaping praise on him any time he could. Despite being so highly revered, he was eventually forced out of the German side and stripped of his captaincy just short of 100 caps.
Ballack's legacy is complete, he was successful despite outside forces trying to keep him down. Other greats struggled for success too. George Best never played in a World Cup, Gabriel Batistuta had his troubles, and let's not forget that for all the club titles Lionel Messi has won, he has never reproduced the form for Argentina.
Michael is still a very young man, at the publishing of this article he is only 43. He has carved out a niche for himself as a World Cup Commentator in the United States. In fact, Americans have come to trust him and like him more than some of the former US Men's National Team Players doing commentary today.
This piece was kindly written for @TFHBs by writer and creater of @YellowCardPod - Stephen Brandt. Give him a follow @StephenCBrandt
The Football History Boys, 2020