Football and Christmas: An Annual Tradition
I love Christmas. I mean I really love Christmas. It's great. Food, songs, snow (sometimes) and of course, football. Every year, Boxing Day becomes more than just "the day after Christmas". In fact, it becomes perhaps one of a football fan's favourite days...that is until I checked this year's
Premier League
fixture list. There are only 9 fixtures this year, like last season with two sides playing the day after. It's something I never thought I'd see, as the game continues to bow down to the ever-growing might of television. This got me thinking about Boxing Day football and the game over the Christmas period in general. Why do we hold it so dear and why does it retain a certain majesty over the sporting season?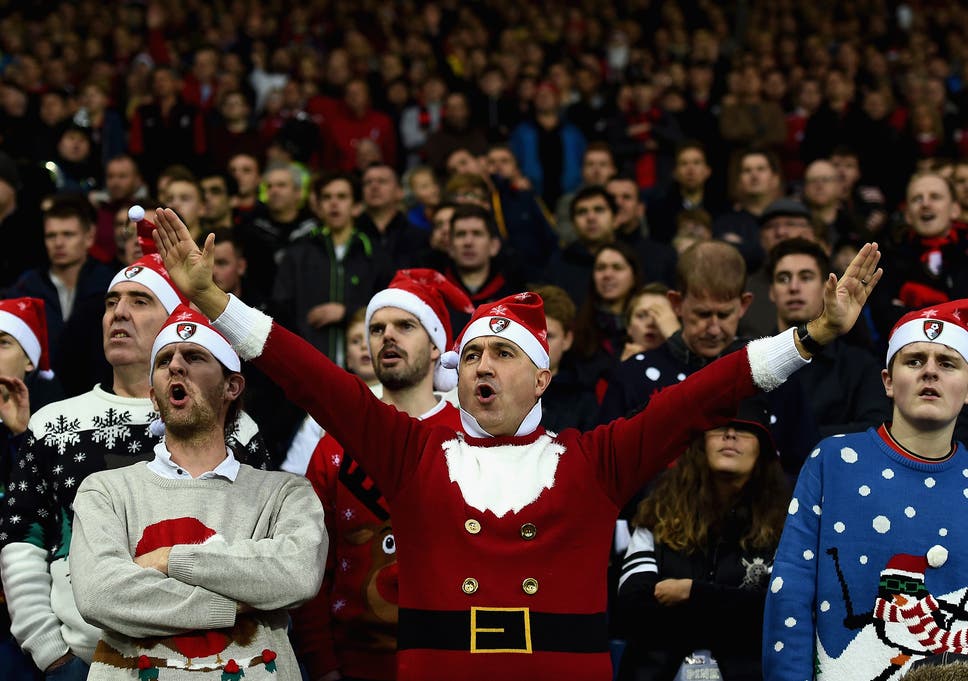 We love you Santa, we do!
The day after Christmas. After a full day of presents, food and goodwill - it's time to lounge on the sofa, kick back and watch the beautiful game unfold. The first question which needs to be asked is just when did this annual tradition begin? 30, 50, 100 years ago? Our initial stop was to look back to the inaugural football league season in 1888-89. Indeed, the research was successful, with a number of articles reflecting on matches between many clubs we still associate with today. Everton faced off against Bootle in front of 15,000 spectators; Derby were up against Bolton; whilst the unbeaten Preston North End defeated West Brom 5-0 in 'delightful footballing weather.'
Surely the tradition must be older than this. The 1871 Bank Holidays Acts constructed a two-day period of festivities as Boxing Day became part and parcel of British life. The extra day providing relief for the longer opening hours throughout the winter season. Indeed, a match between Sheffield Norfolk and Chesterfield is recorded on the 26th December that year - Sheffield winning 7-0 in the process. Football had become known as 'the Winter Game' and in keeping with the season its relationship with Christmas has continued to grow.
Victorian Christmas Card
Sheffield F.C., who we have written about in previous posts, played the first of their incredible rivalry against neighbouring Hallam FC on Boxing Day 1860. The derby has dubbed the 'Rules Derby' due to the different codes of football being played at the time. Still competed to this day, the fixture is the game's oldest known derby. Newspapers covered the match, commenting on the 'presence of a large number of spectators' and despite the severe weather, exhibited to prevent the game from becoming uninteresting. The final score? 2-0 to Sheffield.
Football, as we have discussed in numerous articles, provided the working-classes of Britain with a new found identity as the professional game continued to grow and spectatorship thrived in an ever-growing social revival. Towards the end of the Victorian era - workers managed to profit from increased leisure time and pragmatic acts of parliament. It is easier for us now to write about British sport towards the end of the twentieth-century, but the involvement of Christmas in this piece throws up a whole new array of questions.
"Fans are attached to Boxing Day football because it is part of what makes Christmas Christmas."
The words of our former Swansea University lecturer, Martin Johnes, offer a truth which many across the country would like to shun of put to one side. Like it or loathe it, there is no escaping football's role in making the British Christmas what it is. In fact, contrary to the modern day tradition of Boxing Day football - matches were often played on Christmas Day up until 1965. Amazingly, it was not uncommon to see games being held on both Christmas Day and Boxing Day - back-to-back fixtures which make modern day calls for a 'winter break' seem incredible.
Perhaps the most famous Christmas Day fixture comes from 1914, during the horrific First World War. Many soldiers had believed that the war was to be finished by Christmas, but trench warfare and the incompetence of the high command meant that any conflict was to last longer than anticipated. By December 1914, it was clear that for many they would not be returning home over the coming month. In fact, before Christmas Day millions of soldiers from all over Europe had been killed or wounded as resentment and disillusionment grew. However, despite opposing ideologies, Christmas was something the vast majority of soldiers had in common. It presented an opportunity for both sides to display humanity, despite the surrounding chaos, and a chance to forget the enmity they had been told to feel.
"On Christmas Day a football match was played between them and us in front of the trench... They [German troops] were really magnificent in the whole thing and were jolly sorts and I now have a very different opinion of the Germans. Both sides have started the firing and are already enemies. Strange it seems doesn't it?" [2]
It is a story which can be found over and over again throughout articles from December to January, but one which we never get tired of seeing. A number of soldiers met along the endless zig-zag of trenches, exchanging gifts and later playing football matches. Football is often described as a 'universal language', a notion no more apparent than with the events on the Western Front. Indeed the idea of a truce had been discussed by the Pope and the English Suffragettes who wrote an 'Open Christmas Letter'. Any truce was officially rebuffed but the disillusionment of soldiers, many of which told opposing armies they were 'sick of it', led to matters been taken into their own hands.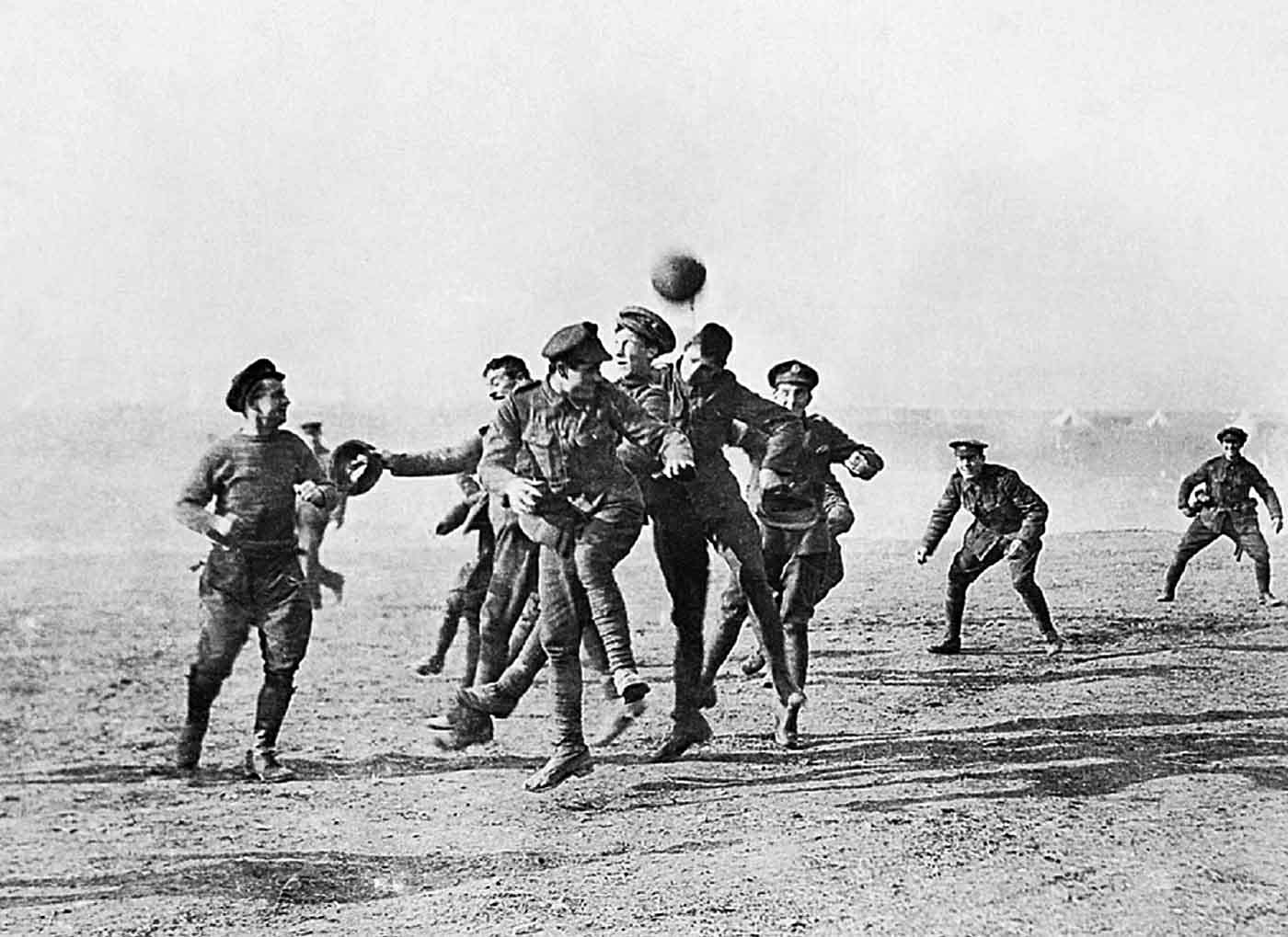 Soldiers playing the beautiful game
Throughout the twentieth century - the tradition of football at Christmas continued to grow. In 1917 for example, the famous Dick, Kerr's Ladies played against a rival factory side at Preston's Deepdale on Christmas Day. Later, they would see an attendance of 53,000 at Goodison Park to watch a Boxing Day fixture against St Helens. It is an era which we have written about extensively, as the festive games were first introduced as a means of raising public morale in war time before itself becoming a new tradition. It was only until the draconian ban in 1921 that this new feature in British society was lost.
Since 1965 - football over the Christmas period has remained relatively unscathed. Indeed, it has seen some of the UK's greatest ever matches. It is not difficult to find lists written by the various newspapers and media sources in the UK - highlighting their personal top 10s. Laughably, the
Daily Star's
"Top 5 Boxing Day matches 'EVER'" only features fixtures from 1992 - further testament to the intrusion of television of football.
Perhaps the most important date to feature is Boxing Day 1963 - where an unbelievable array of matches tool place up and down the country. In the ten First Division fixtures on that day - 66 goals were scored with ten alone in the match between West Ham and Blackburn. In more recent seasons, Sheffield Wednesday's 3-3 draw with Man United in 1992, Coventry's 3-2 win over Arsenal in 1999 and the 4-4 draw between Chelsea and Aston Villa will live long in the memory.
Some results!
Today, the Christmas period causes some division. Not amongst fans, but from within the clubs that are forced to play upward of ten fixtures during the month. Indeed, elsewhere across the continent - 'winter breaks' are introduced at the end of December to encourage players and staff to take a break from one of the most pressured and scrutinized jobs in the world. It is a tactic which has paid off for nations like Spain, Italy and Germany with regards to the impressive results of their national teams. This is the prime reason for a winter break in the Premier League from February 2020. The European Championships, which featured 3 out of the 4 home nations in 2016, is just around the corner.
In 2022 - Christmas football will make history once more as the greatest competition on Earth is played in Qatar. The scorching summer temperatures in the middle-east would make the playing of the game almost impossible and dangerous to the teams who compete. For me, a Christmas World Cup is pretty exciting. Of course, traditionalists might complain about the seasonal change but Advent 2022 will have a completely different and exciting feel.
Santa, Camels and the World Cup - what's not to love?
In the modern age of consumerism and commercialisation - there is no escaping football - with presents, annuals and almost everything being able to adopt a club crest and be sold to busy Christmas shoppers. There is no doubt increased marketing threatens the Boxing Day fixture - which many football fans would be sad to see go. Football and Christmas has a link as strong as any other we have studied. Without football, the festive period would lose one its most traditional elements.