These players saw things most wouldn't. They did things most couldn't. The pitch was their canvas and they painted their way into football immortality."
That's part of the quote that arrived on a card with my t-shirt from Art of Football. This quote can no doubt be attributed to many of the players in the collection but perhaps none more so than Ronaldinho Gaúcho. The Brazilian, with 97 caps for his country, reinvented the way people see the game and has a trophy cabinet many who have played the game could never emulate.
Born 21st March 1980, Ronaldinho began his career with Gremio in Brazil before moving on to Paris Saint Germain in 2001. In July 2003, Barcelona beat a number of European clubs to the exciting youngster's signature, paying €30m. It was of course at Barca where Ronaldinho dominated Europe, winning the FIFA World Player of the Year (now FIFA Ballon d'Or) in 2004 & 2005. During his first campaign with the Catalan club he netted 15 times, creating another 11 goals in 32 La Liga showings; despite not winning the league. By the end of his spell at the Camp Nou, Ronaldinho had scored 94 goals in 207 games in all competitions, creating 69 more. He won 2 La Liga titles, 2 Supercopa de Españas and a UEFA Champions League.
One of Ronaldinho's greatest matches in a Barcelona shirt was without doubt on 19th November 2005. Real Madrid were hosting Frank Rijkaard's Barca at the Santiago Bernabéu; a side featuring Zinedine Zidane, David Beckham, Roberto Carlos, Raul and Ronaldo to name a few. Barca though stunned their fierce rivals, Eto'o opening the scoring on 15 minutes. It was all a day all about Ronaldinho though, the playmaker netting 2 marvellous goals as Barca dominated. To top it all off, the Madridistas gave the magician a standing ovation, Ronaldinho saying: "It was a perfect game, I will never forget this because it is very rare for any footballer to be applauded in this way by the opposition fans."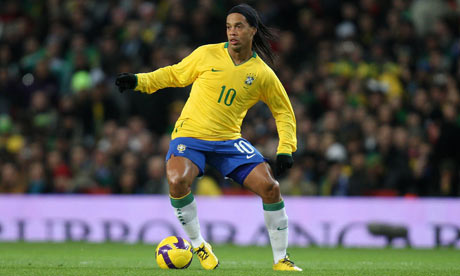 Elsewhere in his career, Ronaldinho featured for Milan, Flamego, Atlético Minerio, Querétaro and Fluminense. Raking up a total of over 700 competitive club games and almost 280 goals in addition to a Serie A and a Copa Libertadores. Internationally Ronaldinho can boast an Olympic Bronze Medal, a Copa America, a FIFA Confederations Cup and obviously the 2002 FIFA World Cup (remember THAT goal England fans?!).
So why was Ronaldinho an artist? Well anyone who saw him play or has spent hours trawling Youtube highlights of his '

elastico

's
can tell you that! The spectacularly talented footballer was (as the FC Barcelona website writes): "Skilful, agile, extrovert, fast, inspired, magical… Ronaldinho's greatest assets were speed and boundless technical skills… Indeed, his reserves of tricks and dribbling skills seemed to be inexhaustible and the fans were constantly surprised by his range of seemingly impossible moves. His combinations with the rest of his team mates in attack increase the team's attacking potential enormously."
Ronaldinho was simply one of the greatest footballers ever to lace up a pair of boots. No wonder Art of Football wish to honour him in their new collection. The green t-shirt I ordered is high quality and has a design that is totally unmistakeable for Ronaldinho. In addition to that, the guys over at Art of Football packaged it in wrapping of classic football newspapers headlines, getting my TFHB juices flowing too! So make sure you head over to http://art-of-football.com/collections/the-artists?page=1 and check out the clothes and posters for yourself!
Ronaldinho came 18th in our Top 250 poll of the greatest

players

of all-time.

Make sure you cast your vote in the new, updated Top 100 2016 version.