Bela Guttmann - A Story That Needs To Be Told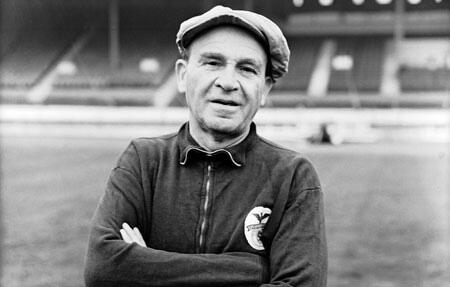 Bela Guttmann
22 different clubs, 13 different countries, 2 European Cups, a curse that still exists to this day and one of football's greatest journeymen, it's safe to call Bela Guttmann a trailblazer! Born in 19th century Austria-Hungary to a Jewish family, Guttmann is regarded by many as the original Brian Clough or Jose Mourinho. A controversial figure from the outset he never stayed at a club from more than 3 season because by his own admission "the third season is fatal" (similar to Pep Guardiola's sentiments after 4 years at Barcelona). When playing he once hung dead rats on Hungarian officials hotel room door's as a protest, so we can already see there's more to this man than just statistics and self confidence...
Bela Guttmann's management career began before the Second World War broke out in 1939 but throughout most of Europe football was put on hold till 1945. Guttmann's Jewish background meant he had to escape Nazi persecution and while not much is known about his war experience it is thought he spent his time in neutral Switzerland; his brother though was killed in a concentration camp. After the War Guttmann did not take long to restart his career with a spell in his native Hungary before moving to all Jewish club Ciocanul in Romania. Here, he demanded to be paid in vegetables for him and his family to combat the hunger crisis that swept across post-war Europe. This was not to last however and after the frustration with the board who intervened with team selection he resigned and rejoined Ujpest FC in Hungary where he won his second league title with the club. The next big disagreement came with the legendary Ferenc Puskas in 1948, his captain at Kispest AC where he had succeeded Ferenc's father, this saw Guttmann move to Italy.
Guttmann - Just as tough talking as Brian Clough
The biggest job for him in Italy was Milan, coaching the likes of Gunnar Nordahl and Nils Liedholm, unfortunately this only latest 19 games after he was sacked for another run in with the board. They were top of the league and this infuriated Bela, he said at the press conference "I have been sacked, even though I am neither a criminal nor a homosexual. Goodbye". From this point on Guttmann insisted on a clause in his contract everywhere he went stating he could not be sacked with his side top of the league.
This is where the Bela Guttmann story becomes extraordinary. In 1957 after returning to Honved and a team that contained many of the Mighty Magyars; he took them on a tour to Brazil where they faced Flamengo and Botafogo, however Guttmann did not return with his side. He liked what he saw in South America and did what was unheard of for a European at the time by taking over Sao Paulo. At Sao Paulo he won the State Championship but perhaps more importantly, he helped give Brazil the famous 4-2-4 formation. The system used by the Brazilian national team as they went on to win the 1958 World Cup. Guttmann though, sticking to his philosophy only hung around in South America till 1958 as he moved back to Europe and took on the Porto job.
Bela Guttmann with his superstar Eusebio
Portugal is where the maverick really made his name, winning the Portuguese Liga by overhauling great rivals Benfica's 5 point lead in his first season. The summer was not exactly a quiet one though, he moved to said rivals Benfica and sacked 20 of the senior players! How did he replace them? Well he promoted the youth team as well as signing an unheard of 19 year old from a club in Mozambique. Suicidal decisions? Not the case, that 19 year old turned out to be one of Benfica's and Portugal's greatest ever players... Eusebio! Oh and of course he won the Liga for the next two seasons as well! Not his greatest achievements however, these came in the European Cup. In 1961 and 1962 Bela Guttman's Benfica beat Barcelona 3-2 and then the might of Real Madrid 5-3 (with a side containing Ferenc Puskas and Alfredo Di Stefano) to incredibly become the only side other than Real Madrid to win the tournament at the time!
Guttmann was on top of the World and with Clough levels of self assurance asked for a pay rise (seemingly justified?) but his request was rejected by the Benfica directors and he stormed out of the club. He left them with a parting shot though, 'The Curse of Bela Guttmann', uttering as he departed "Not in a hundred years from now will Benfica ever win a European Cup". "Rubbish!" I hear you cry, well maybe not. Since 1962 Benfica have been in 7 European finals 1963, 1965, 1968, 1983, 1988, 1990 and Wednesday night v Chelsea (15/5/2013)... They have lost every single one! For Benfica fans the curse is very real, every time the team plays close to his grave in Vienna they take flowers and ask for the curse to be lifted. Before the European Cup final against Milan in Vienna in 1990 Eusebio himself went and prayed to Bela Guttmann, Benfica lost 1-0 and as we saw this week how success is still not easy to come by for Benfiquistas.
For Guttmann his career continued with time spent in Uruguay, Switzerland, Greece and with the Austrian national team before his retirement in 1973. His legacy? Well as CNN describe him a "charismatic and sometimes eccentric genius". Trophies, particularly in Portugal, were many and his innovations tactically have been regarded as some of the best. This nomadic, no nonsense, man manager means I think comparisons with Mourinho are accurate, not to mention them both leaving Benfica in rather acrimonious circumstances. For me Bela Guttmann's story is an important one, when chatting with the other Football History Boys we noted how incredible this man's career was and how it's a tale that needed to be told. The only thing I wish is that the curse could've been lifted before Wednesday night so we wouldn't have to listen to that ridiculous "Champions of Europe" song from Chelsea fans for another flipping season!!!
Chelsea fans, don't get too comfortable with Jose again, remember "The third season is fatal"!